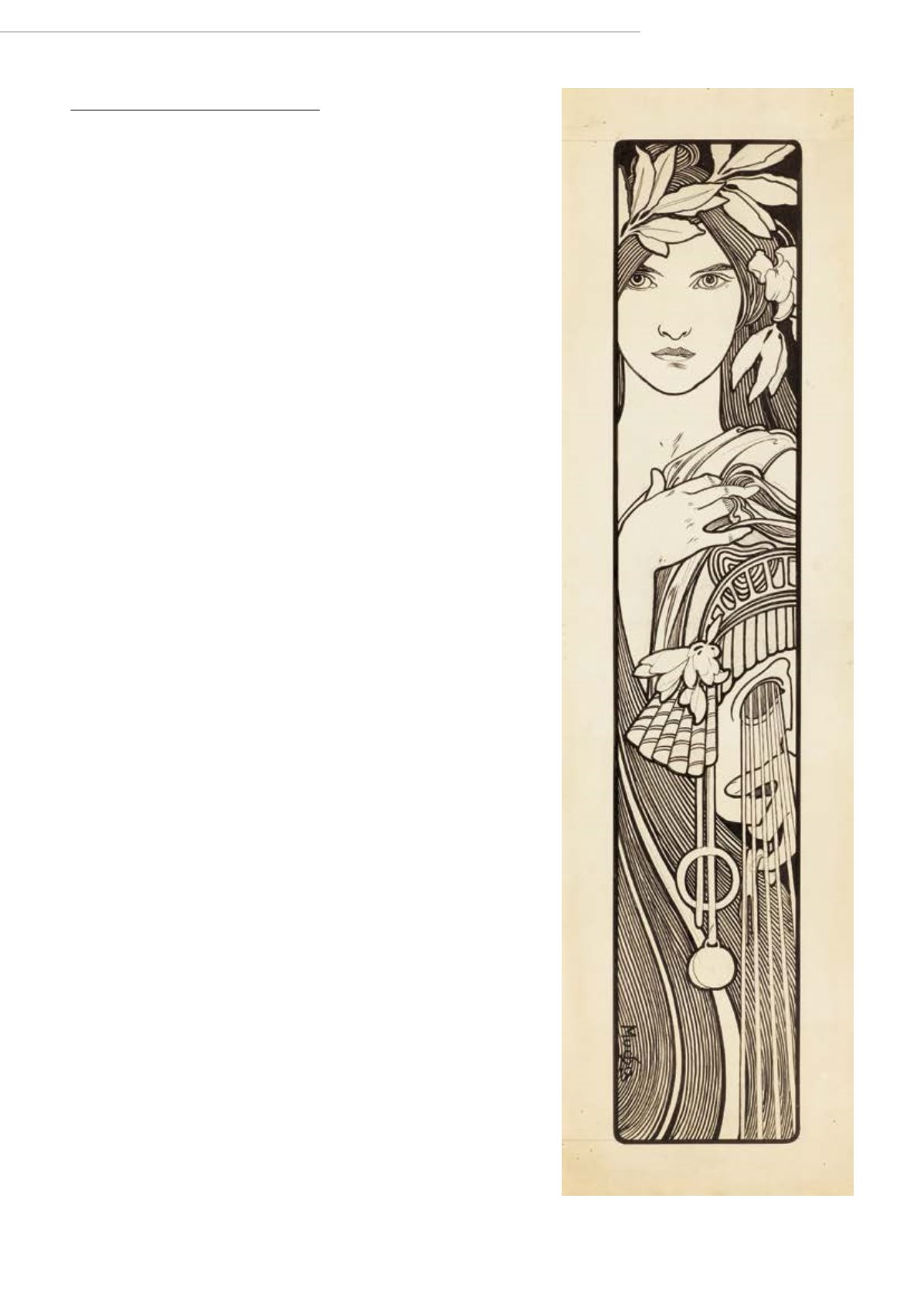 Impressionist & Modern Art
| 84
3282*
ALPHONSE MUCHA
(Ivančice 1860 - 1939 Prague)
Thalia, the muse of the comedy. 1897.
Ink on cardboard.
Signed lower left: Mucha.
62.7 x 16.7 cm.
The authenticity of this work has been
confirmed by the Mucha Foundation.
Provenance:
- Collection Henry Bataille, France.
- Collection Yvonne de Bray, France.
- Galerie Lecuyer, Paris.
- Private collection, Germany (acquired at
the above gallery, Salon du Dessin, Paris).
Literature: Cf. Rennert/Weill, Alphonse
Mucha: the complete posters and panels,
1984, p. 144.
Living in modest circumstances Alphonse
Mucha first makes his living with contracts
in scenography and later with book illustra-
tion. When he meets the famous actress
Sarah Bernhard in 1894 and receives an
order for a poster for the play "Gismonda ",
he has his final breakthrough. He becomes
the most famous poster artist of the Belle
Époque and his works are the epitome
of the French Art Nouveau. The work
offered for the auction here is a magnifi-
cent example of the modern style and the
artist's immense talent for drawing. This is
a beautifully detailed, elaborate and espe-
cially rare ink drawing, which has been used
for various theatre announcement ads,
such as for the play La Dame aux Camé-
lias, in which Sarah Bernhardt personally
performs.
CHF 18 000 / 24 000
(€ 16 670 / 22 220)
3282