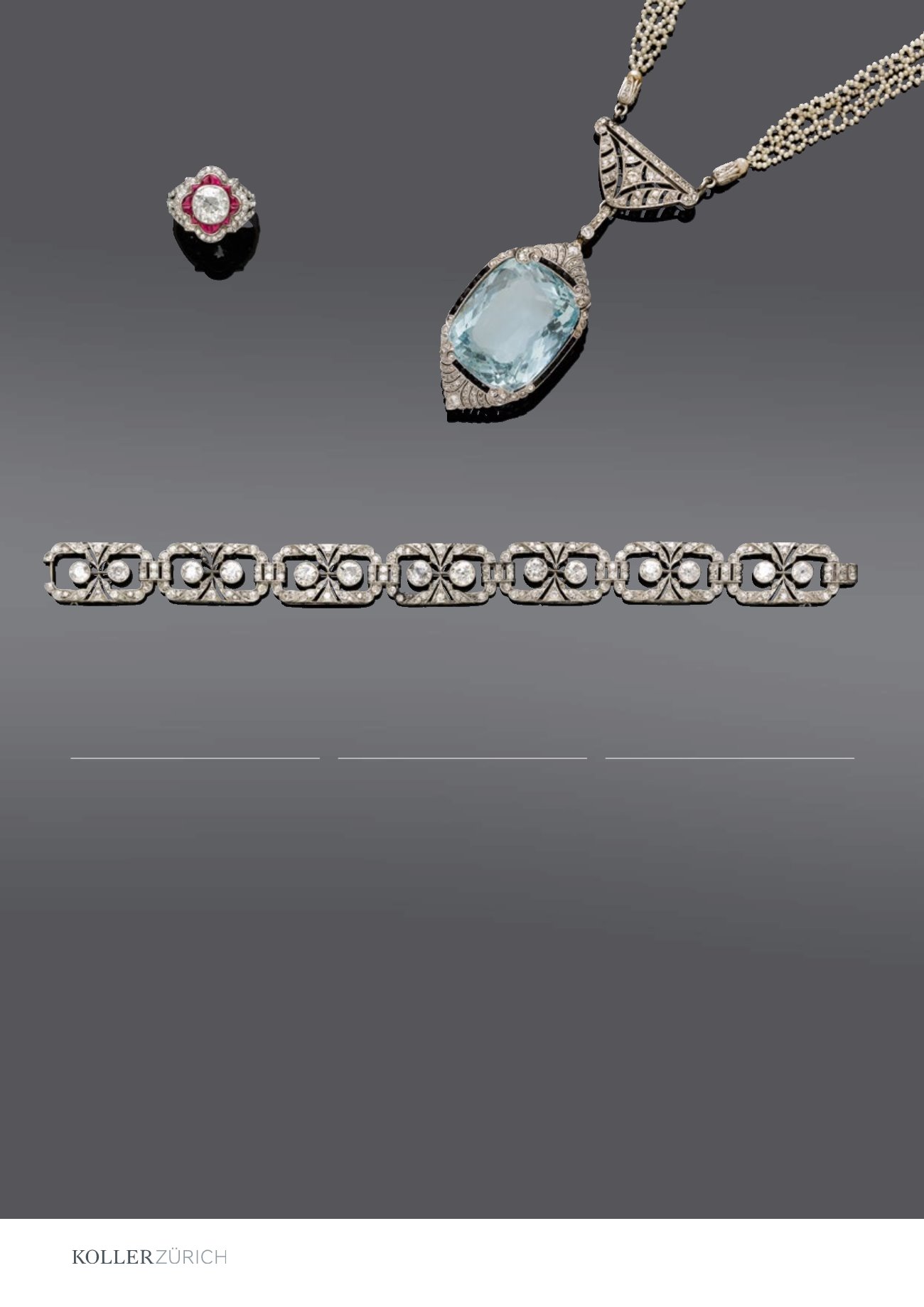 | 49
2144*
DIAMANT-RUBIN-RING, um 1910.
Platin über Gelbgold.
Dekorativer eleganter Ring, die Schauseite
besetzt mit 1 Altschliff-Diamant von ca. 2.20 ct,
ca. N-O/SI2, umgeben von eingeschliffenen,
kalibrierten Rubinen und 32 Achtkant- und
Altschliff-Diamanten. Ringschultern zusätzlich
verziert mit 24 Diamanten. Gr. ca. 55.
DIAMOND AND RUBY RING, ca. 1910.
Platinum and yellow gold.
Set with 1 circular-cut diamond of ca. 2.20 ct,
ca. N-O/SI2, surrounded by calibré-cut rubies,
single- and circular-cut diamonds. The ring
shoulders additionally decorated with diamonds.
Size ca. 55.
CHF 11 000 / 16 000
EUR 10 200 / 14 800
2145*
AQUAMARIN-ONYX-DIAMANT-
PERLEN-COLLIER/BROSCHE, um 1910.
Platin über Roségold.
Dekoratives elegantes Belle-Epoque Collier aus
zahlreichen geflochtenen Saat-Perlchen, der
geometrisch durchbrochene Anhänger auch
als Brosche tragbar, besetzt mit 1 antik-ovalen
Aquamarin von ca. 60.00 ct, umgeben von 22
eingeschliffenen kalibrierten Onyx, 4 Alt-
schliff-Diamanten von zus. ca. 0.20 ct, 24 Acht-
kant-Diamanten und zahlreichen Diamantrosen.
Abnehmbare Broschierung. L ca. 41 cm.
With modern case and copy of the insurance
appraisal, May 2007.
AQUAMARINE, ONYX, DIAMOND AND
PEARL NECKLACE/BROOCH, ca. 1910.
Platinum and pink gold.
A Belle Epoque necklace composed of
seed-pearls, the pendant set with 1 cushion-cut
aquamarine of ca. 60.00 ct, surrounded by cali-
bré-cut onyx, 4 circular-cut diamonds, weighing
ca. 0.40 ct, single- and rose-cut diamonds. The
pendant also usable as a brooch. L ca. 41 cm.
CHF 5 000 / 8 000
EUR 4 600 / 7 400
2146*
DIAMANT-BRACELET, um 1925.
Platin.
Dekoratives elegantes Bracelet aus 7 rechtecki-
gen Gliedern besetzt mit je 2 Altschliff-
Diamanten und zusätzlich ausgefasst mit 210
Achtkant-Diamanten von insgesamt ca. 8.00 ct.
L ca. 18 cm.
DIAMOND BRACELET, ca. 1925.
Platinum.
Composed of 7 rectangular links, each set with
2 circular-cut diamonds and decorated with
single-cut diamonds, totalling ca. 8.00 ct.
L ca. 18 cm.
CHF 6 000 / 9 000
EUR 5 600 / 8 300
2144
2145
2146