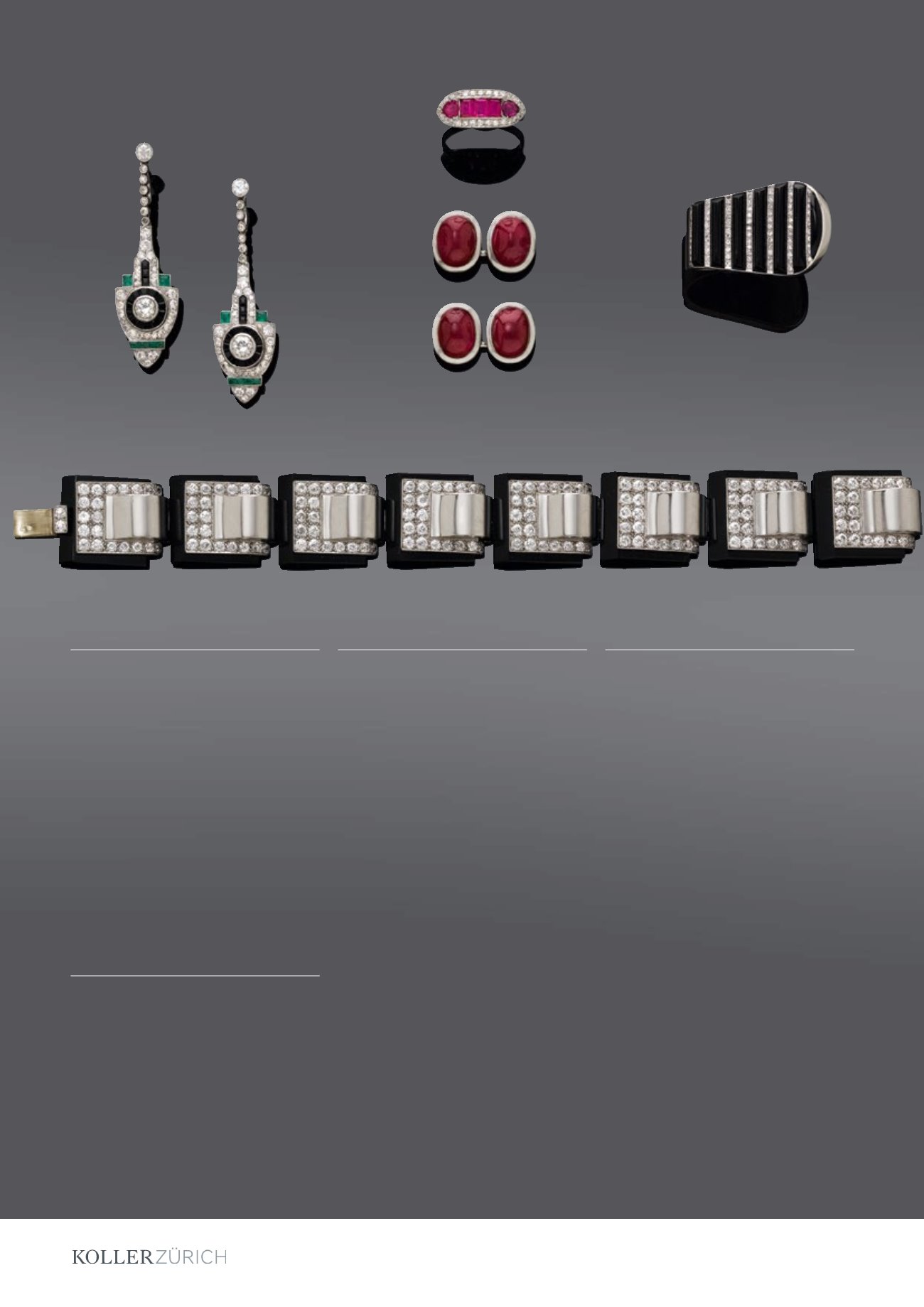 | 53
2159*
BURMA-RUBIN-MANSCHETTEN-
KNÖPFE, CARTIER Paris, um 1970.
Platin 950 und Weissgold 750.
Sportlich-elegante Jumelles-Knöpfe, besetzt mit
je 2 ovalen Burma-Rubin-Cabochons von zus.
ca. 19.00 ct, in geschlossener Fassung. Signiert
Cartier Paris, Nr. 04702.
With box and GCS-Report 5776-3534,
November 2011.
BURMA RUBY CUFFLINKS,
BY CARTIER Paris, ca. 1970.
Platinum 950 and white gold 750.
Twin-cufflinks, each set with 2 oval ruby
cabochons, totalling ca. 19.00 ct. Signed Cartier
Paris, no. 04702.
CHF 7 000 / 10 000
EUR 6 500 / 9 300
2160*
ONYX-DIAMANT-RING.
Weissgold 750 und Platin 950.
Dekorativer, asymmetrischer Ring im Art-Déco
Stil, die Schauseite verziert mit 7 eingeschlif-
fenen Onyx-Stäbchen bzw. diamantbesetzten
Linien von insgesamt ca. 1.00 ct. Gr. ca. 51.
ONXY AND DIAMOND RING.
White gold 750 and platinum 950.
In Art-Déco style, set with 7 calibré-cut onyx-
bars and diamond-set lines, totalling ca. 1.00 ct.
Size ca. 51.
CHF 3 000 / 5 000
EUR 2 800 / 4 600
2161*
DIAMANT-SMARAGD-ONYX-
OHRHÄNGER/RING, Frankreich, um 1925.
Platin, Brisur Weissgold.
Sehr dekorative Ohrhänger mit Brisur aus
je 1 geometrisch gestalteten Zierteil, besetzt
mit je 1 Altschliff-Diamant von zus. ca. 0.80
ct, eingeschliffenen Onyx-Carrés, 6 Sma-
ragd-Carrés von zus. ca. 0.30 ct und zahlreichen
Achtkant- und Altschliff-Diamanten, montiert
unter einer Diamant-Linie. Gesamtgewicht der
Diamanten ca. 1.50 ct. Spuren einer unlesbaren
Meistermarke, Nr. 6216, Französische Marken.
L ca. 5,7 cm. Beide Altschliff-Diamanten mit
Onyx-Entourage, abschraubbar und montierbar
auf einen Ring, wohl später. Gr. ca. 55.
With box signed Wartski.
DIAMOND, ONYX AND EMERALD EAR
PENDANTS, France, ca. 1925.
Platinum and white gold.
Composed of geometrical designed elements,
set with 2 circular-cut diamonds weighing ca.
0.80 ct, calibré-cut onyx, square emeralds
totalling ca. 0.30 ct and circular- and single-cut
diamonds totalling ca. 1.50 ct. Trace of a maker's
mark, no. 6216, French gold marks.
L ca. 5,7 cm. Centre diamonds and onyx sur-
round interchangeable on a croisé ring mount.
Size ca. 55.
CHF 8 000 / 12 000
EUR 7 400 / 11 100
2162*
ONYX-DIAMANT-PLATIN-BRACELET,
um 1930.
Platin.
Elegantes Art Déco Bracelet aus einer Folge
von 8 rechteckigen Gliedern mit geometrischem
Muster, in der Mitte Platin, umgeben von
pavé-gefassten Altschliff-Diamanten und ver-
ziert mit einer kontraststarken Onyx-Bordüre.
Insgesamt 160 Diamanten von zus. ca. 8.00 ct,
L ca. 19,2 cm.
An almost identical bracelet with brooch, ring
and box, signed Dusausoy Paris, was sold by
Koller in 2006, A139 lot 2123.#br# Dusausoy
was located in Paris at Boulevard des Capucines.
Jean und Justin Dusausoy created jewellery
of extraordinary quality, in limited quantities;
therefore their pieces are very rare and collec-
table. They participated in many international
exhibitions in Paris, Madrid, Cairo and at the
World Fair in 1939 in New York.
ONYX, DIAMOND AND PLATINUM
BRACELET, ca. 1930.
Platinum.
Art Déco bracelet, composed of 8 rectangular
links, in the middle platinum, surrounded by
pavé-set circular-cut diamonds and decorated
with an onyx frame. Total weight of diamonds
ca. 8.00 ct, L ca. 19,2 cm.
CHF 33 000 / 53 000
EUR 30 600 / 49 100
2161
2158
2159
2160
2162