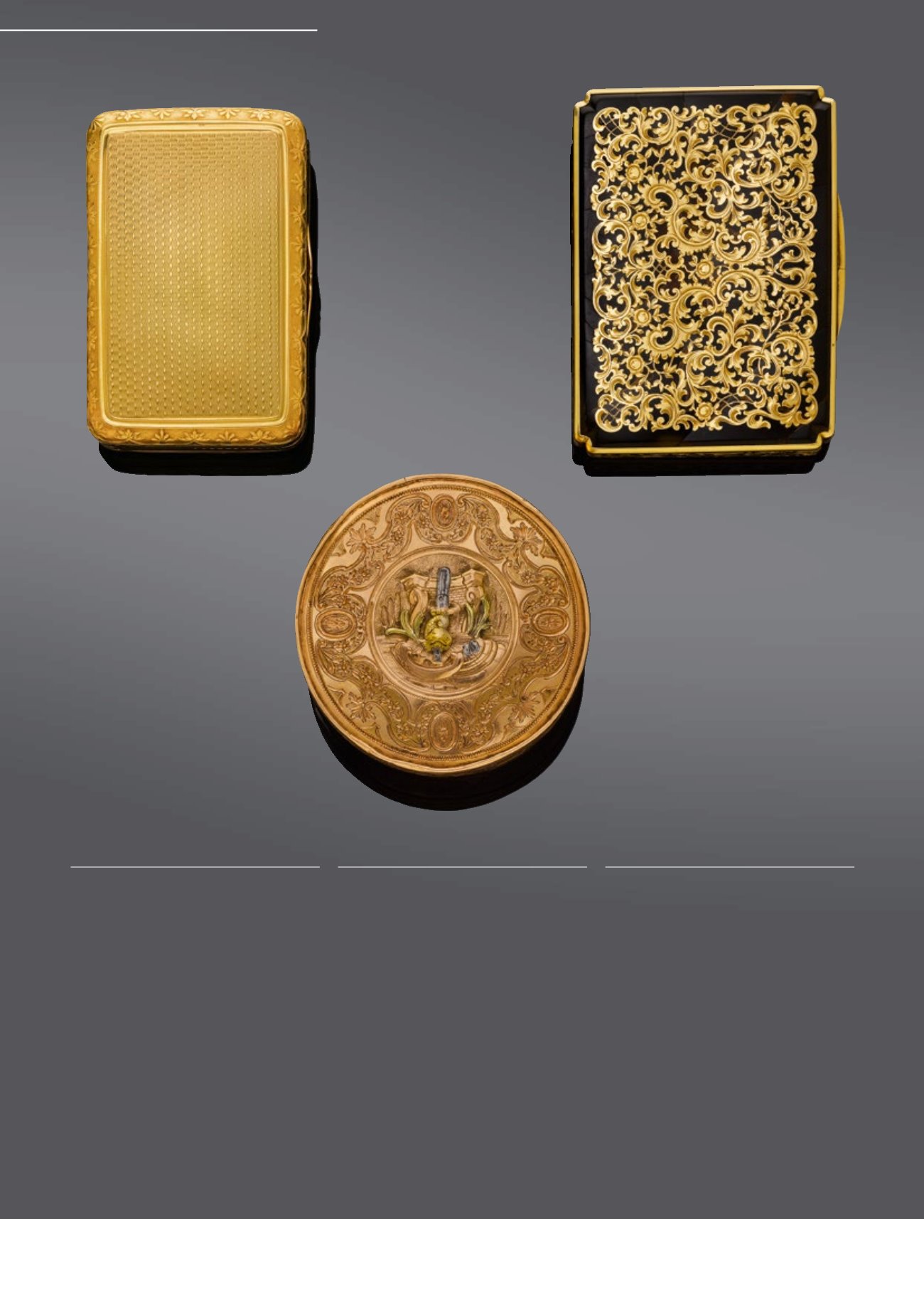 | 58
Schmuck & Juwelen
2174*
GOLD-TABATIÈRE, Frankreich um 1800.
Gold "en deux couleurs", 66g.
Guillochierte Dose in abgerundeter Rechteck-
form mit fein gravierter Umrahmung mit Pal-
mettendekor. Feingehalts- und Garantie-Marke,
Meistermarke schlecht lesbar TF?.
Ca. 7,2 x 5 x 1,8 cm.
GOLD SNUFF-BOX, France ca. 1800.
Two-colour gold, 66g.
Rectangular engine-turned box, the border of
the cover and base chased with palmette motifs,
parisian goldmarks and warranty, maker's marks
indistinct, TF?. Ca. 7,2 x 5 x 1,8 cm.
CHF 1 600 / 3 400
EUR 1 500 / 3 100
2175*
GOLD-DOSE, wohl Wien, um 1890.
Gelbgold.
Rechteckige Dose, die seitliche Wandung
mit fein graviertem Akanthus-Dekor, Boden
und Deckel aus Schildpatt, Deckel zusätzlich
inkrustiert mit Gold-Rocailles. Verschluss mit
Spuren einer gravierten Nr. 18(?)43. Schildpatt
des Deckels mit Rissen. Ca. 7,8 x 6 1,2 cm.
GOLD BOX, probably Vienna, ca. 1890.
Yellow gold.
Rectangular box, side walls engraved in gold,
with scrolling acanthus leaves, base and top
composed of tortoise-shell, cover inlay with
gold-rocailles. Clasp with traces of a Nr. 18(?)43
and marks. Tortoise-shell on the cover with
cracks. Ca. 7,8 x 6 1,2 cm.
CHF 900 / 1 400
EUR 800 / 1 300
2176*
GOLD-DOSE, 19. Jh.
Roségold.
Runde, ornamentierte Dose, graviert mit
geschwungenen Bänder, Palmetten und Kartu-
schen, zentrales Deckel-Medaillon mit einem
monumentalen Brunnen mit Fisch. Innenfutter
aus Schildpatt. Boden instabil.
Ca. 6,3 x 6,3 x 2,7 cm.
GOLD SNUFF-BOX, 19th century.
Pink gold.
Round box, engraved with scrolling band,
palmette and medallion motifs, the central cover
panel chased with a monumental fountain with a
fish. Inside with tortoise-shell lining.
Ca. 6,3 x 6,3 x 2,7 cm.
CHF 1 800 / 2 400
EUR 1 700 / 2 200
2176
2174
2175